The best 20 Wedding Dress Shopping Tips for a bride-to-be. Shopping for a wedding dress can be scary for brides-to-be. Especially the plus-size brides-to-be, because of the stress and fear of not finding the dress that fits perfectly.
These 20 wedding dress shopping tips will get you right on your way to getting it done and have fun shopping. Without being ashamed of your body or size.
These shopping tips will help you figure out, How to get ready,The things you will need, and How to choose the best wedding dress for your perfect body.
At this stage, you already have a wedding date and your wedding dress budget. Even your wedding theme, and you know what silhouette you like and so on.
1
Eat Before Wedding Dress Shopping
Before going for a dress shopping, eat before you go. Don't go wedding dress shopping without having your breakfast. Because you might be in a rush and you end up picking the wrong dress.
Plan to shop for the entire day. Eat breakfast and have lots of snacks, which will help to keep you focused.
But if you are lucky to find your dream dress in a few hours, then that's perfect, but at least are prepared.
Check out this Ultimate 2020 Wedding Planning Guide
2
Set Up A Wedding Dress Budget.
When going to a wedding dress shopping, it's advisable to have a budget. Having a budget helps discipline you to stick to it. When you get to the store, let your consultant know what your budget is. Only try on dresses that are within your budget. Avoid the mistake of falling in love with a more expensive dress.
Most times, brides make the mistake of trying on a more expensive dresses, knowing fully well that the dress is out of their price point. Which is a No-No! Falling in love with a dress that is double your budget will ruin your day and shopping experience.
For instance, if you love a dress that is way over your budget, it will be difficult, if not impossible to find something similar within your budget. So only try a dress that is within your price range.
3
Do Your Wedding Dress Research.
Your wedding date is set, and you have a wedding dress budget set, then it's time to start shopping.
Shopping doesn't mean going to the store to buy a dress, it means it's time to start researching for your dream dress. What best way to research for a wedding dress, if not social media?
Research on fabric choices, terms like what is the meaning of tulle, silhouettes and much more. Take a look at Facebook pages, Instagram pages, and Pinterest. Pinterest is my favorite.
Pinterest is your best friend when it comes to researching for a wedding dress. Also, don't forget to look through magazines.
4
Start Wedding Dress Shopping On Time.
Make sure you have seven to at least one full year before your wedding date. when you keep your wedding dress shopping last minute, you will run out of time.
And you might not find something that looks good on you in the sample sizes.
It's even worse if you are a plus size bride-to-be. Because it will be hard if not impossible to get something in sample sizes that will fit you right. Except if the designer is a plus-size designer.
Start wedding dress shopping on time, so you have options to choose from and have a lot of time to make adjustments if you have to. If you decide to go for a custom design wedding dress, you will have enough time to do that without paying for rush fees.
So start shopping on time to save time and money.
5
Choose A Few Wedding Dress Silhouettes.
Think about your favorite outfit and figure out what the silhouette is.
Check to see if it's a ball gown, mermaid, or A-line. Pick at least two or three silhouettes, so you have options.
Having a few wedding dress silhouettes will help your consultant, grab dresses you will like to try on.
Be open to try other silhouettes that are not among your chosen silhouettes.
You might be surprised if you fall in love with a dress cut that is not among your chosen silhouettes.
6
Know Your Measurement.
Have a seamstress take your measurements. Knowing your measurements prevents the frustrations of trying on the wrong dress size.
It will cost you between $25 – $100 to get a seamstress to take your measurements.
If you need help taking your measurements, download this free "5 things to do before taking your measurements", below

to help you get your perfect measurements every single time.
7
Schedule For A Wedding Dress Appointments.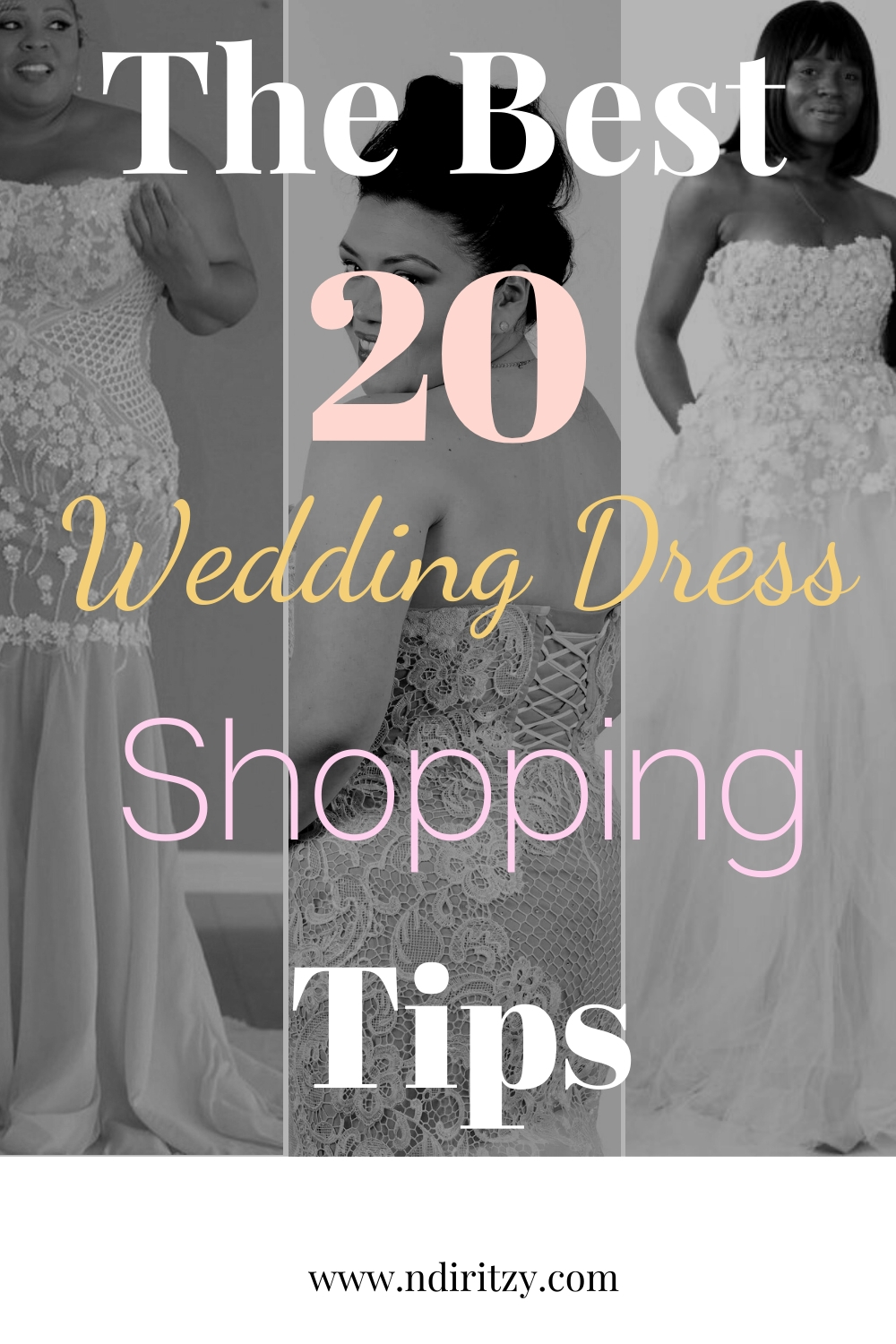 Yes!!!! It's shopping time!
Reach out to designers, stores, and boutiques. When scheduling for your appointment, go during the week to avoid the rush or too many people in the store.
The weekends are always busy and full of people. You might be overwhelmed by all the foot traffics. You may not have that private shopping experience you wanted.
So weekdays are the perfect time to shop because your consultant will be more focused. You will feel like you have the entire store all to yourself.
8
Take Your Heels To Your Wedding Dress Appointments.
Don't forget your shoes.
Think about the heel size or the heel length you will be comfortable to wear on your wedding day and bring them. Most bridal shops have heels.
Sometimes, it might not be your size or the length you want, so to be on the safe side, bring your own heels.
9
Get The Proper Undergarments.
By now, you have an idea of how you're going to look on your wedding day.
Get all the things you will need for your appointment ready. Things like a strapless bra, Spanx, nude pant/thong, heels, corset (if only you want to wear a corset or Spanx).
10
Have Limited To No Makeup.
Having little to no makeup done can help avoid getting their wedding dresses stained.
If you have a full face makeup, it will not be fun if you keep staining their dresses.
Yes, go there with little to no makeup that will help make everything go even smoother.
11
Have Inspirational Pictures.
When dress shopping, it would be wise and advisable to take your inspirational pictures to your wedding appointment.
It will help your consultant, pick out dresses that look similar to your inspirational images. which makes your experience a little bit easier.
Yes, the inspirational picture does help a lot.
12
Pick Your Entourage Wisely.
Make sure you don't have too many people going to your dress shopping appointment.
If you have too many people, it will be more difficult for you to choose a dress, or make up your mind on a dress.
They will never agree on a dress and too many opinions can mess up your mind/decisions.
It's advisable to go with three or four close friends and family members who know what you like. They will let you know what looks good or bad on you.
So limit the number of your entourage, the fewer the better.
13
Have Fun.
It's your show, so go have fun.
Know that you can try anything you want to try. Try bling, bling (Sparkles) dresses, Jumpsuit with capes, beaded lace dress, or even Pant. I mean anything!
You can definitely have fun shopping for a wedding dress.
14
Try A Nontraditional White Dress.
It's your day, forget the rules and get any color you want to rock on your special day.
You don't have to wear a white dress, it can be any color you chose. When dress shopping, try out dresses that are non-traditional white wedding dresses. Every bride-to-be might be different.
As a bridal designer, I have designed wedding dresses in different colors for some brides-to-be. Colors like red, blue, pink, and even black wedding dresses.
It all depends on you.
So, whatever color you chose, only buy a dress that you love and that fits you perfectly. Or something that you feel happy and comfortable to wear on your wedding day and say I do to the love of your life.
15
Get A Dress That Fits You Now.
Most brides-to-be make the mistake of planning to lose weight within the limited wedding planning period.
Because of that, they get something one or two size(s) smaller than their normal size.
Beautiful! Don't make that mistake, what if you didn't lose any weights at the end, what happens to the dress that is two sizes smaller? Now you are panicking!
Avoid all the stress and panics, get a dress that fits you right now. It is easier to take in a dress, than actually expanding a dress to fit you.
16
Make Sure You Can Move In The Dress.
when you find the perfect dress, make sure you can move in the dress.
It's advisable to sit, walk around, and do some dance moves, to be sure you can dance on your wedding day.
You know what kind of music you plan to dance to on your special day, get a dress that will allow you to dance to the music you chose. because it will be horrible if you have the perfect dress and now you can't dance in it or pull it up a little to sit down.
This is the time for you to actually test the dress before you say yes to it.
17
Say How You Feel About The Dress.
You are not there to please anyone but yourself. Because you've tried on a lot of dresses, it doesn't mean you should say yes to the next ill-fitting dress.
You don't have to make your consultant or your entourage happy, no.
Be free to say no for the 10th time if you're not feeling the dress. You know your body better than anyone and you know how a dress should fit on your body.
Just don't be afraid to express how you feel throughout this process, and please no boring dress!!!!!
18
Don't Be Afraid To Say Yes To The Dress.
Be ready to commit to a dress when you find the right dress, just be 100% sure you love the dress before you say yes to the dress.
If you love a dress that's within your budget and you truly know that this is your dress, go ahead and commit to it.
I know, you may be sad, because it's the end of your wedding dress shopping experience.
Yeah, it should end because you have a whole lot of things to do and move on to the next wedding planning stage.
19
Be Comfortable To Walk Away.
No apologies, if you are not liking any of the dresses, feel free to walk away.
please beautiful, don't just grab anything and go home. Be comfortable to walk away and try another shop, bridal salon, or even custom-made.
You have options. So, don't feel pressured into getting the wrong dress.
It's okay to say- "you know what," I think, I need to go and think about it or maybe come back another day.
20
Custom Design Your Wedding Dress.
Custom designing your wedding dress can be expensive, but at least you get what you want.
Your wedding dress or pant can be custom-made to your size, height, and shape.
At this point, you don't have to worry about the wedding dress not fitting you right, because it will be custom designed to your size.
If you want a custom design wedding dress that hugs all your curves perfectly in all the right places, then,
Nidiritzy is your best option. Click this link
to start the process of designing your perfect one of a kind dream wedding dress.
Wedding dress shopping can be stressful, but with these best 20 wedding dress shopping tips, you are sure to shop for a wedding dress like a pro.
Putting into practice all you've learned from this blog post. Knowing what to expect and the things you need to know to help make this experience a little easy and enjoyable.
If you love this blog post, I would love you to like it or share it with your soon to be brides friends.
If you are planning for your wedding dress shopping soon, can you let me know what you think about this post? Share your wedding dress struggles below.
FREE INSTANT DOWNLOADABLE

"

VENDORS & SERVICES PLANNER

"
Send me the plannerWe respect your privacy. Unsubscribe at anytime.